Regular price
Ultimate Daniel Fast Guide Journal and Prayer Guide
---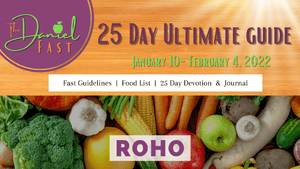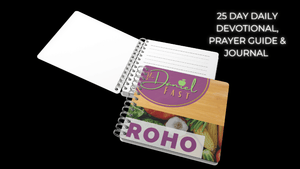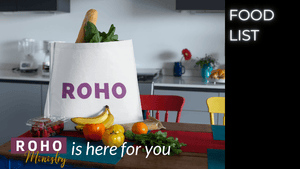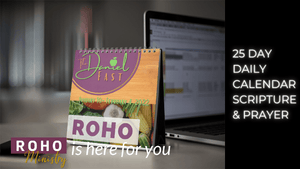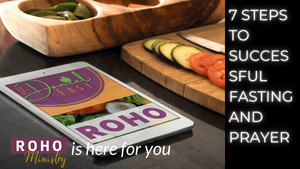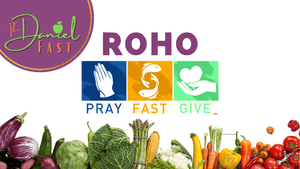 Regular price
Ultimate Daniel Fast Guide Journal and Prayer Guide
---
We believe the power of fasting as it relates to prayer is the spiritual atomic bomb that our Lord has given us to destroy the strongholds of evil and usher in a great revival and spiritual harvest around the world.

If you're thinking about participating in a Daniel Fast this year, you may be feeling overwhelmed, wondering if you can stick with it. Perhaps even at this moment you're debating on whether to commit to the fast or just forget the whole idea.
Let ROHO Ministry assure you of one thing: YOU CAN DO IT! Even if you're doing the Daniel Fast by yourself, you're not alone. First, God is with you to provide the strength and self-control you need. Second, I'm here as your coach to encourage you and help you succeed. 

ROHO'sUltimate Guide to the Daniel Fast provides 25 thought-provoking devotionals for each day of the fast and shares resources and tips to help you successfully complete the fast. You'll learn how to structure your fast so you can spend less time thinking about what to eat and more time focusing on God. You'll also discover that "to fast" means "to feast" on the only thing that truly nourishes – God's powerful Word. 
ROHO's ULTIMATE GUIDE TO THE DANIEL FAST WILL HELP YOU:
Create your own fasting plan, including tips on how to prepare physically and spiritually.
Understand the history behind the Daniel Fast by looking at Daniel's fasting experiences.
View fasting from God's perspective as outlined in Isaiah 58 and other related passages.

Sense God's voice more clearly.

Recognize God's work in your life so you're ready to step out in faith when he prompts you to act.
Apply Scripture to your everyday circumstances through the 21 daily devotions.
Move beyond self-centered praying into powerful intercession on behalf of others.
Organize the food portion of your fast with more than 100 recipes and a 3-week meal plan.
Fuel your body with food that won't leave you feeling guilty.
Focus on God while feasting on tasty recipes and His powerful Word!
ROHO's Ultimate Guide to the Daniel Fast will be your helpful guide and constant companion as you embark on your Daniel Fast journey. 
Order your copy today and begin seeking the Lord through the Daniel Fast. God will be faithful to draw near to you as you draw near to Him.
We love you and God Bless-ROHO Team