Regular price
Sale price
$9.99
GODLY COUNSEL: Using the Bible to make the best decisions
---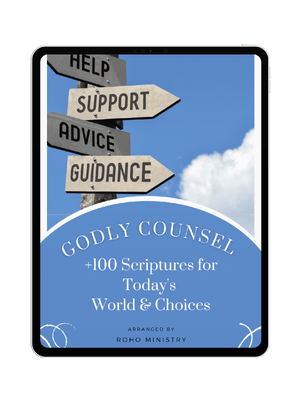 Regular price
Sale price
$9.99
GODLY COUNSEL: Using the Bible to make the best decisions
---
E-Book Try for FREE, Preview
HERE
The Bible is best mental health text book ever written! And God's Word is the best counselor.
Regardless of where you find yourself about the choices  you make, as a follower of Christ, I know you're concerned about whether or not you make choices that please God.
In short, you want to walk in God's will for your life.
To help you know God's will, make biblical decisions, and overcome decision anxiety, we poured over 76 Bible passages  about decisions, choices, and wisdom.
Topics: Abortion; Addictions; Adolescent Rebellion; Anger; Anxiety/Worry/Fear; Backsliding; Belief/Salvation; Christ, Who He Is; Citizenship; Communication; Death & Dying; Depression; Divorce; Forgive/Forgiveness; Grief; Judgmental; Love; Marriage; Money/Riches; Parenting; Persecution; Prayer; Pride; Self-Esteem, Low; Sexual Sin; Sin; Suffering; Temptation; Thinking, Healthy; Trouble/Hardship; Truth; Unemployment; Weak/Tired