Regular price
The Weapon of Prayer (Women's Guide)
---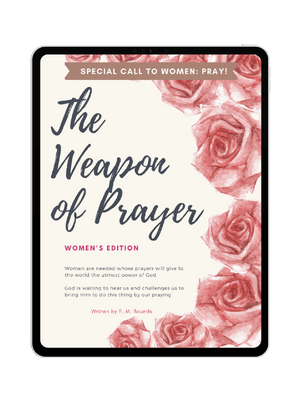 Regular price
The Weapon of Prayer (Women's Guide)
---
Format: E-Book ***digital download***
As you begin the journey to fulfill the plans and purpose God has destined over your life, I thought it was necessary to congratulate you on taking this first, important step. Over the next weeks and months you will be faced with many temptations calling you back to your old life and the things you used to do, but today, you have chosen to be bigger than your past. Today you have chosen to be greater than the sum of your mistakes. You are on the right path, and you
cannot turn back.
I encourage you to pray, meditate and journal as you go through the pages of this book, because true change requires some "alone time with God" and when you are alone with God, you will also be alone with yourself---to begin to truly see yourself for who you really are.
I look forward to hearing from you about the wonderful things God will do in and through you as your go through this devotional. Today is the first day of the rest of your life. Today, you have taken a bold step for God. Today, you have taken a bold step for yourself and I am proud of You!
Grace and Peace,
Rev. Nicholas Richards
Reviews
" This book has beautiful artwork, but it's also practical. The layout is explained in the first few pages and it is helpful to follow it. While there isn't a right or wrong way to pray, this book reminds you to praise Him first, then talk to God about what's on your heart. A reflection page based on a verse and how you might practically use it in your daily life. This prayer journal has already helped me come to my Savior daily to praise Him and just talk to Him." -Deeane C.
Only 35 Pages
Chapters:
I. PRAYER ESSENTIAL TO GOD
II. PUTTING GOD TO WORK
III. THE NECESSITY FOR PRAYING WOMEN
IV. GOD'S NEED OF MEN WHO PRAY
V. PRAYERLESS CHRISTIANS
VI. PRAYING MEN AT A PREMIUM
VII. THE MINISTRY AND PRAYER
VIII. PRAYER-EQUIPMENT FOR PREACHERS
IX. THE PREACHER'S CRY - "PRAY FOR US"
X. EXAMPLES OF PRAYER