Regular price
Power Though Prayer (Men's Guide)
---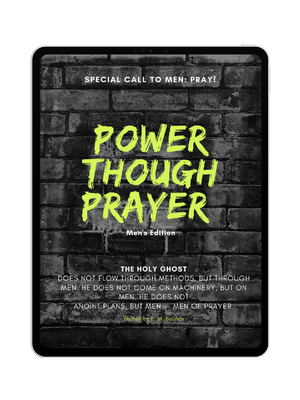 Regular price
Power Though Prayer (Men's Guide)
---
Format: E-Book ***digital download***
As you begin the journey to fulfill the plans and purpose God has destined over your life, I thought it was necessary to congratulate you on taking this first, important step. Over the next weeks and months you will be faced with many temptations calling you back to your old life and the things you used to do, but today, you have chosen to be bigger than your past. Today you have chosen to be greater than the sum of your mistakes. You are on the right path, and you
cannot turn back.
I encourage you to pray, meditate and journal as you go through the pages of this book, because true change requires some "alone time with God" and when you are alone with God, you will also be alone with yourself---to begin to truly see yourself for who you really are.
I look forward to hearing from you about the wonderful things God will do in and through you as your go through this devotional. Today is the first day of the rest of your life. Today, you have taken a bold step for God. Today, you have taken a bold step for yourself and I am proud of You!
Grace and Peace,
Rev. Nicholas Richards
Reviews
"This book is a real gem! In today's society, we have forgotten how to play the man. This book is a wake up call for us to be the men that God created us to be. It took me longer to read this book than other books, because I spent a lot of time meditating on its message. This book really challenged me. Thank you for tackling the subject of manhood. It was much needed! I highly recommend this book to everyone, not just men!." -Jerome A.
"I was excited to see a new book out and it did not disappoint" -Kevin R.
"The book features a lot of powerful thought-provoking anecdotes, life-changing questions, and powerful biblical insights. If you want to learn more about your identity as a man, your relationship with others, how to handle finances, manage time, and improve temperament, then this book is for you."

- Tyronne B.
Only 30 Pages
Chapters:
I. MEN OF PRAYER NEEDED
II. OUR SUFFICIENCY IS OF GOD
III. THE LETTER KILLETH
IV. TENDENCIES TO BE AVOIDED
V. PRAYER, THE GREAT ESSENTIAL
VI. A PRAYING MINISTRY SUCCESSFUL
VII. MUCH TIME SHOULD BE GIVEN TO PRAYER
VIII. EXAMPLES OF PRAYING MEN
IX. BEGIN THE DAY WITH PRAYER
X. PRAYER AND DEVOTION UNITED
XI. AN EXAMPLE OF DEVOTION
XII. HEART PREPARATION NECESSARY
XIII. GRACE FROM THE HEART RATHER THAN THE HEAD
XIV. UNCTION A NECESSITY
XV. UNCTION, THE MARK OF TRUE GOSPEL PREACHING
XVI. MUCH PRAYER THE PRICE OF UNCTION
XVII. PRAYER MARKS SPIRITUAL LEADERSHIP
XVIII. PREACHERS NEED THE PRAYERS OF THE PEOPLE
XIX. DELIBERATION NECESSARY TO LARGEST RESULTS FROM PRAYER
XX. A PRAYING PULPIT BEGETS A PRAYING PEW