Regular price
Sale price
$14.99
Biblical IQ: Emotional Transformation
---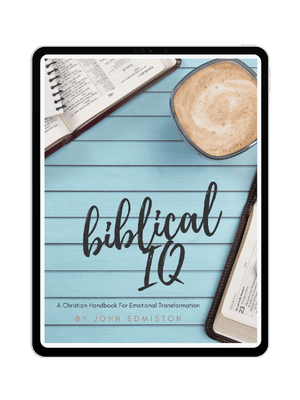 Regular price
Sale price
$14.99
Biblical IQ: Emotional Transformation
---
**Digital Download**
A Christian handbook for emotional transformation By John Edmiston
This book will answer your deepest questions about emotions in the Christian life - from a biblical and Christ-centered perspective.

How To Understand And Use This Book  
PART 1 – Jesus As Our Model Of How Our Emotions Work
PART 2 – The Inner self and Our Emotional World 
PART 3 – Practical Techniques For Emotional Self-Mastery And Expression 
Answer questions such as:
How can I bring my emotions under control? Did Jesus have emotions?
Are my emotions important to God? Is it really possible to know true peace?
How come some Christians have a glow about them? Why am I always afraid?
Some people seem so masterful, how do they do that? Why did Jesus weep?
Where do emotions come from? How can I express emotions wisely and well?
What's the difference between my mind and my brain? Why is love important?
How can the Holy Spirit help me to grow emotionally? Can I really be like Jesus?