Regular price
A Daily Prayer from Now until Easter Sunday!
---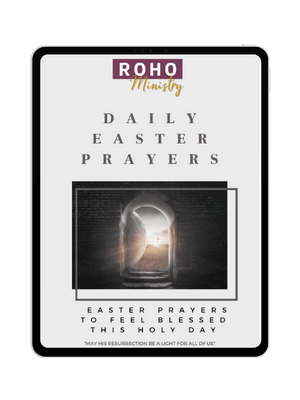 Regular price
A Daily Prayer from Now until Easter Sunday!
---
A Daily Prayer from everyday until Resurrection Sunday Celebrated on April 17, 2022.
As you're making plans this year to celebrate Easter, keep this selection of reflective Easter prayers close to you to serve as reminders for why we rejoice this time of year—the resurrection of Jesus Christ. While you and your loved ones are enjoying other fun springtime activities, like decorating Easter eggs and coming up with Easter basket ideas for the littles, let these prayers be part of the celebration too. In fact, some of the prayers on this list are ideal for sharing with kids so that you can teach them the Christian holiday means more than hunting for eggs and eating candy.
Another way to add these prayers to your family's favorite Easter traditions is to say a short Easter prayer before or after your Easter dinner. As you read through this list, you'll see that many of them are meant to be recited after Ash Wednesday, while you reflect throughout the period of Lent. There's also a blessing that you can use on Good Friday in preparation for Easter Sunday.
Beautifully and thoughtfully written, these best Easter prayers will make a meaningful addition to your family's Easter day, as well as the time leading up to Easter. Let them be faithful ways to express gratitude and appreciate the many blessings in your life.
- God Bless you from ROHO Ministry