Regular price
10 Things to Remember For Lent
---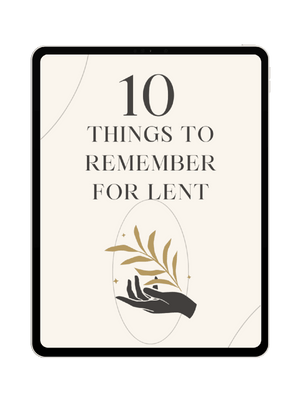 Regular price
10 Things to Remember For Lent
---
Journey to the Foot of the Cross - 10 Things to Remember For Lent
Then Jesus was led up by the Spirit into the wilderness to be tempted by the devil. And he fasted forty days and forty nights, and afterward he was hungry. Matthew 4:1-2
Just as we set aside time to spiritually prepare for Christmas Day, it makes sense to set aside time to prepare for the two most important days of the Christian year - Good Friday and Easter. Lent is a time that offers us an opportunity to come to terms with the human condition we may spend the rest of the year running from and it brings our need for a Savior to the forefront.  Lent is a time to open the doors of our hearts a little wider and understand our Lord a little deeper, so that when Good Friday and eventually Easter comes, it is not just another day at church but an opportunity to receive the overflowing of graces God has to offer.
Lent is more frequently observed as a solemn time of preparation for remembering of the death and resurrection of Jesus at Easter. From the start of Lent on Ash Wednesday till Lent ends on Easter Sunday, Lent is traditional a time of fasting or giving something up, known as abstinence. Lent gives us time to prepare our minds and hearts for remembering the life, death and resurrection of Jesus. 
Prayer is a large focus during Lent. During the 40 days, we seek God's forgiveness, accept his love and mercy, and repent, or turn from our sins. The act of fasting or abstaining from something, like our favorite food or activity, not only gives us time to pray but reminds us of Jesus' suffering and and sacrifice. 
Use our free 40 Day Lent Devotional Guide to lead you in prayer and scripture reading through the Lenten Season! Download your copy HERE.
God Bless, ROHO Family